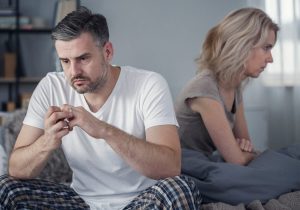 California is a "no-fault" divorce state. This means that a person who wants to end their marital relationship can do so. He/She does not have to prove that their spouse did something wrong. This is so because a divorce in California is generally based on "irreconcilable differences," which simply means that something in the marriage did not work and at least one spouse would like to end the relationship. 
While some people do reconcile even after filing a petition for divorce, it takes a sincere desire from both parties to preserve the relationship for the case to be stopped. If either spouse would like to end the relationship, the case cannot be stopped by the other spouse.
The case can proceed as either a dissolution of marriage (a divorce) or a legal separation, with the only difference between the two being the end result. At the end of a divorce, the parties' assets and debts are divided, custody orders (if applicable) are issues, support orders are made, and marital status is terminated, thereby returning the parties to the status of "single." 
However, even though a legal separation is resolved in much the same way as a divorce case, it does not end the parties' marriage. The parties in a legal separation can resolve all of the same concerns that could have been resolved in a dissolution of marriage proceeding, expect that they remain legally married after all is said and done. Those who choose legal separation instead of a divorce generally do so either due to their religious convictions or for other personal reasons (e.g. continuation of their spouse's health insurance coverage, certain derivative benefits, etc.). However, unlike a divorce case, a judgment of legal separation is granted only if (1) both parties agree that the case will be a legal separation or (2) the case is resolved by default judgment (i.e. one of the parties never responded to or participated in the case after having an opportunity to do so).  
Whether you are simply considering a divorce or legal separation or need help with an ongoing case, there is no substitute for having an experienced, committed, and compassionate attorney to address your concerns and to help to resolve your case effectively and economically. Here at The Kurta Law Firm, our goal is not only to provide each client with highest quality legal representation, but also to give each client the personal care and support they need a difficult time in their lives. With over 10 years of experience, we know that every case is different and are equipped in providing individualized assistance to our clients at every step of the process. 
We invite you to give The Kurta Law Firm a call at (925) 385-8586 to schedule an informative consultation our experienced attorney and to learn how we can make a difference in your case.